Amy from Vanagon Champion is my soul sister or you could say, my sister from another mister! She loves all things 70's, music, owls, cateye glasses, self-love and a lot of really cool things that I should be into. Back to the music part. She has a passion for vinyl and I am jealous of her record collection. I can relate to her passion for music - I don't create it but you can find me listening to music at least 6 hours a day. So I thought I would ask her to guest post today and talk about it! Plus I need a little end of the month blogging break to tidy my house and catch up on Breaking Bad. So here she is!
What's up, party people? My name is Amy, and I'm delighted to be here on what is--I think--THE greatest blog of all time. Rachele is awesome, you are awesome for being here, and that's what's up. I'm here to talk to you about my greatest passion--music. I'm not a casual music fan, I don't just love it--I live, sleep, breathe, eat, bleed, die for music. It is my one main interest and probably my only one true love. I came out of the womb loving it, and I'll probably just be buried with all of my records. To say I listen to music constantly is an understatement, and basically, just let it be known that...I love music. It's who I am. It's who I'll always be.
That being said, Rachele asked me to tell you about my vinyl collection. I've been collecting vinyl since I was a young pup kicking it with my mustachioed dad in our basement. (That's him up there on the wall with his awesome camera. He's the man.) He raised me right with all the greats and all the vinyl you could ask for. The Beatles were my first love, and I spent my free time as a wide-eyed youth writing stories to Beatles songs in my room by myself. I lived it UP in my youth, guys. No, but seriously. Vinyl has always held a primo spot in my heart thanks to my dad, and my collection today comes mostly from him.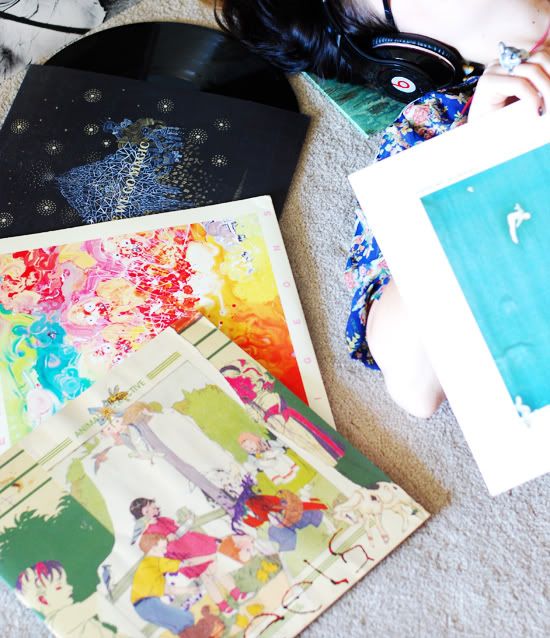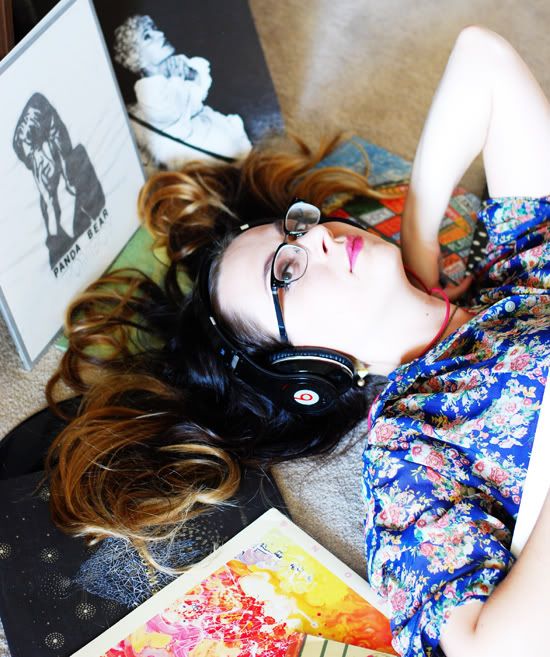 Pops started my collection, and I've been steadily adding to it ever since. I have a hefty collection of old and new vinyl, and there's probably an equal balance of both. Vinyl isn't a trendy thing to do or just a throwback to the past for me. Vinyl is a listening experience, as cheesy as it sounds. Any audiophile will tell you that listening to an album on vinyl offers a completely different experience from listening to it in your headphones. It's rich, it's vibrant, and there are layers of sound you miss until you spin the album. Trust me. Listen to Panda Bear once on vinyl and then on headphones, and you'll see what I'm talking about.
As for my actual record players, I have two! My main player is a collection of vintage equipment put together by my husband Mitchell. He researched record players extensively and on the DL so he could get me the perfect setup for Christmas. Thanks to the help of some awesome old guys on the vinyl forums, he acquired the perfect mix of vintage equipment for a true vinyl experience.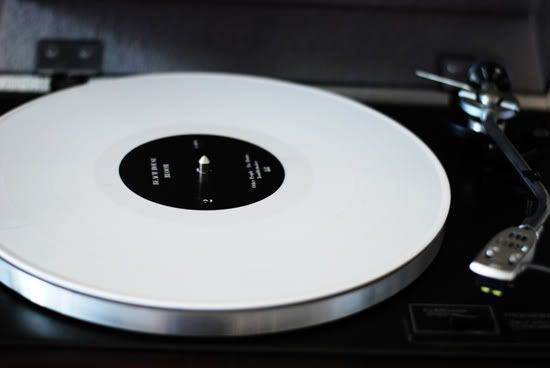 I also have a silly record cabinet from 1962 that I thrifted for $10 a year or so ago. The thing is not only in mint condition, but it also happens to work PERFECTLY. The tubes fired right up, and the radio and record player work. We didn't even have to buy a new needle. Whoever donated this thing was a.) awesome at taking care of their things and b.) insane for giving this up. It works perfectly, but it's mostly just for fun. The sound doesn't get anywhere close to the other setup!
My dad's records are definitely my prized possession. Besides being stellar albums, they're also a reminder of the time we spent together listening and appreciating. Nobody loves music like my dad, and I'm lucky to have inherited that love. My favorite albums I own--definitely Heart's Dreamboat Annie and my Beatles. As far as new stuff--all the Here We Go Magic albums and Panda Bear. Absolute vinyl magic.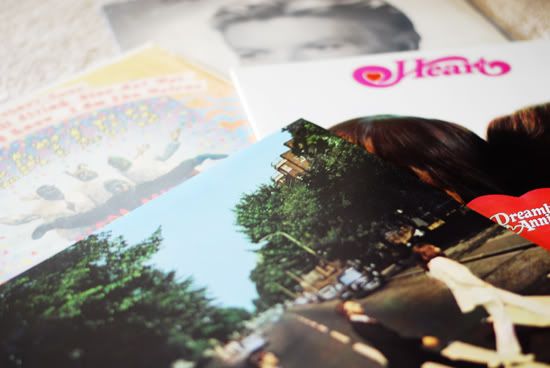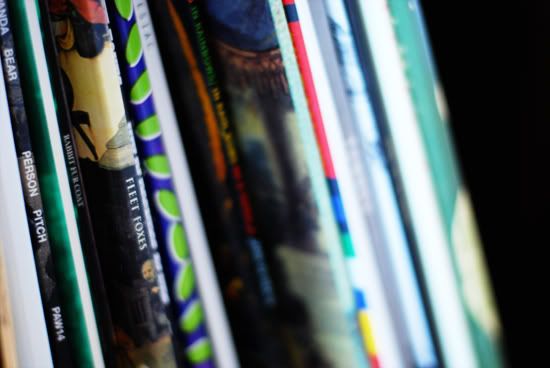 Whenever people ask what I like to do, I stumble because how do you explain that your main hobby is music? Not making it, but listening to it, finding new stuff, going to shows, reading up on it, etc. People don't get it, but I get it. And I love it. And it's what I do. It's my JAM, yo. Life is pointless without it.
Thanks, Amy, for helping a girl out! I would love to know if you guys collect vinyl too? What kind of music do you listen to? Anything you can recommend that I add to my playlist? If you would like to get a taste of the music I listen to, you can find me on last.fm.